Entrepreneurs Touch
**2012 AQHA Amateur World Show Newsflash!!**
Entrepreneurs Touch does it again, this time with owner Cecil Rhodes! Together they captured the AQHA Amateur Reserve World Champion Title in the Two-Year-Old-Stallions class!
**2012 AQHA Select World Show Newsflash!!**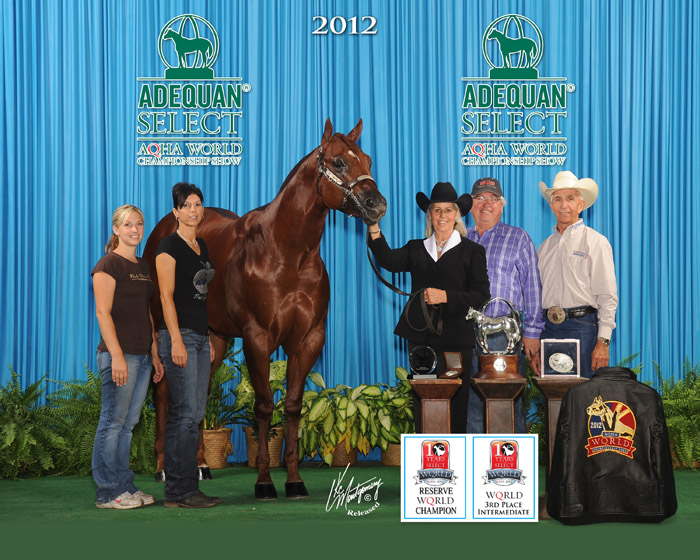 The American Quarter Horse Journal, Amarillo – Sheila Rhodes of Circle Star Ranch located in Pontotoc, Texas, captured the reserve world championship and second place Intermediate titles in two-year-old stallions at the 2012 Adequan Select American Quarter Horse Association World Championship Show on Sunday, August 26 in Amarillo.
Sheila showed the American Quarter Horse, Entrepreneurs Touch, who is a 2010 sorrel stallion owned by Circle Star Land/Cattle Co. of Pontotoc, Texas. Entrepreneurs Touch, sired by Self Employed and out Lady's Magic Touch, was bred by Circle Star Land/Cattle Co.
In the two-year-old stallions class, Rhodes competed for world champion honors and a purse of $800. Rhodes and Entrepreneurs Touch received a prize package that included a custom-designed silver trophy, Montana Silversmiths buckle, a specially designed logoed jacket, courtesy of Cripple Creek Outerwear, product from Tex Tan or WeatherBeeta and a medallion.
The Intermediate awards program is designed to recognize exhibitors who have never placed in the top 10 at an AQHA world show in the particular class in which they are competing. Intermediate exhibitor status is based only on an exhibitor's lifetime, combined world show record, not on the number of points he/she has accumulated. Intermediate accomplishments will appear on the official records of the horse and exhibitor. Intermediate first place winners in each class receive a 6-inch clear globe in addition to a specially-designed patch that can be placed on a qualifiers jacket.
Circle Star Land & Cattle Co.
Circle Star Ranch
Pontotoc, TX 76869
Tel: 325.251.6688 - Toll Free: 866.297.2752 - Cell: 325.320.3250 - Fax: 817.887.1215
Email: ranchmanager@circlestarranch.com
Home - Philosophy - Stallions - Prospects - News - Horses For Sale
© circlestarranch.com , Website designed by Jessica Mather Marketing